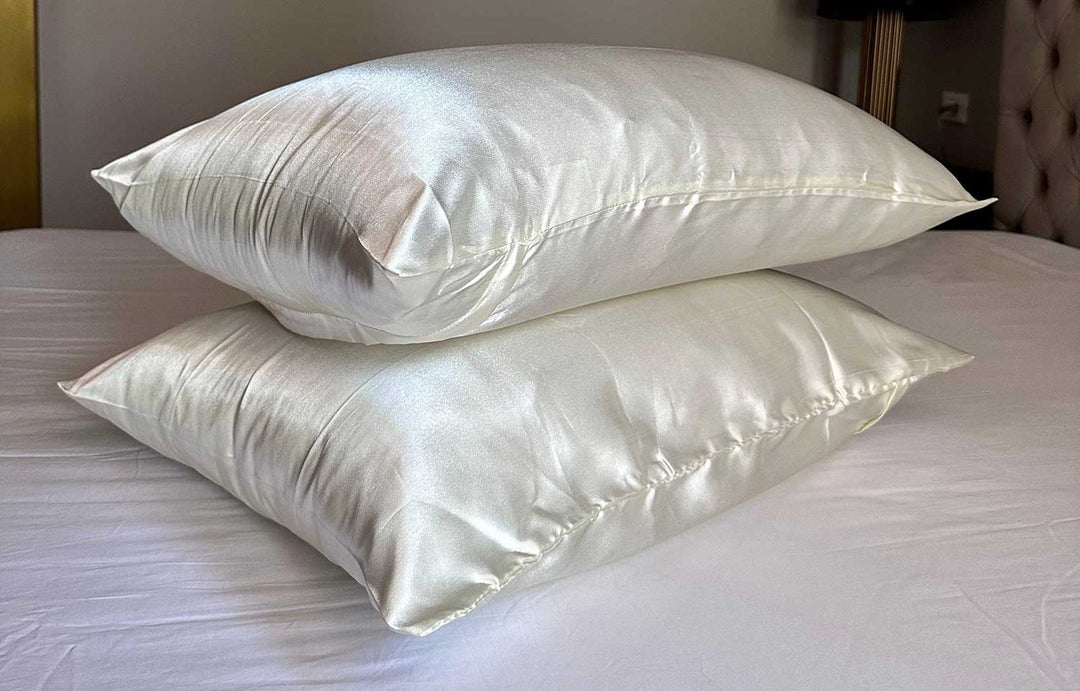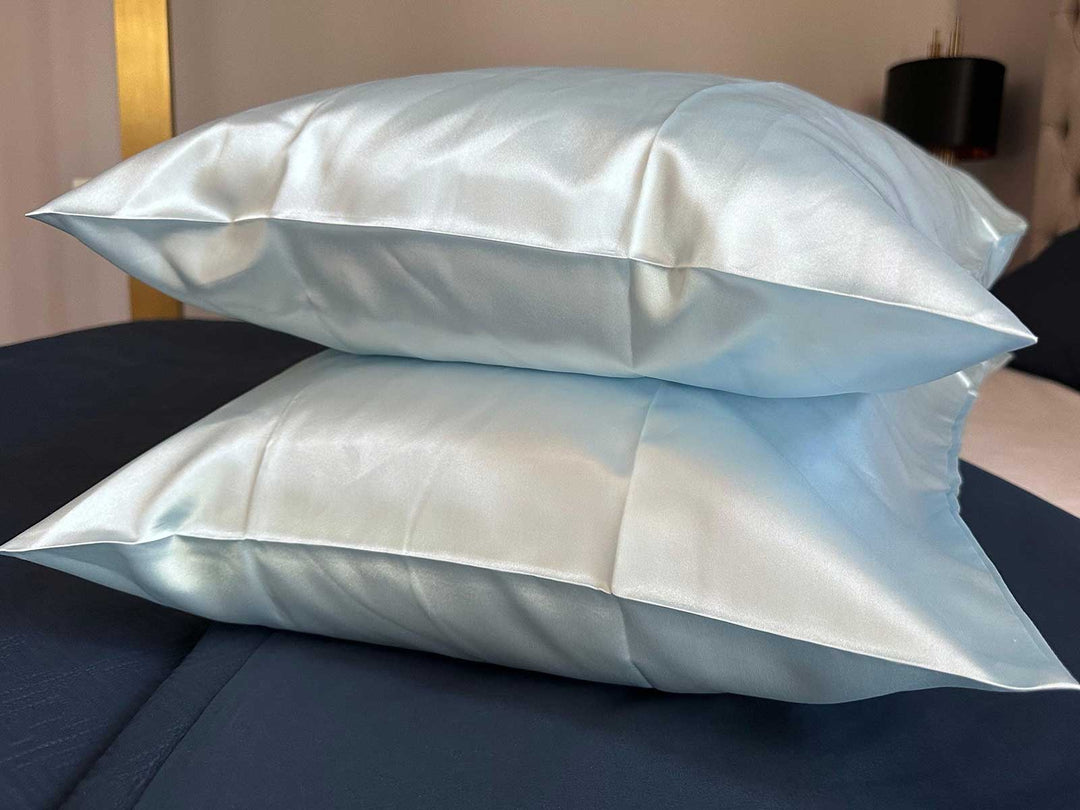 Ava Silk Pillow Cover Pair
Regular price
$20.00
Sale price
$15.00
/
Size chart
Bed Sheets
| | | |
| --- | --- | --- |
| Bed Size | Flat Sheet  | Fitted Sheet  |
| King | 275 x 275cm | 150 x 200cm |
| Double | 230 x 275cm | 140 x 190cm |
| Single | 180 x 275cm | 90 x 190cm |
| Super King | 305 x 275cm | 180 x 200cm |
Bedspreads
| Bed Size |  Size |
| --- | --- |
| King (Spread and Pillows) | 90"X100" |
| Single(spread + 1 pillow) | 70X100"  |
Quilts
| Bed Size | Size |
| --- | --- |
| single | 42X78+10" |
| Queen | 66X78+10" |
| King | 72X78+10" |
Mattress Protector/Cover
| Bed Size | Mattress protector Size |
| --- | --- |
| Cot Bed:        | 28X55+12" |
| Single:          | 42X78+12" |
| Queen:          | 66x78 +12" |
| King:                        | 72X78+ 12" |
| Cal King:              | 84X78+12" |
Mattress Encasement
| Bed Size | Mattress Protector |
| --- | --- |
| Single:          | 42X78+16" |
| Queen:          | 66x78 +16" |
| King:                        | 72X78+ 16" |
Mattress Topper
| Bed Size | Mattress Topper Size |
| --- | --- |
| Single:          | 42X78+10" |
| Queen:          | 66x78 +10" |
| King:                        | 72X78+ 10" |
| Super King:                        | 84X78+10" |
Sofa Covers
| Inches | Body Length | Body Width | Arm Length | Arm Width |
| --- | --- | --- | --- | --- |
| One Seater | 72" | 22" | 28" | 20" |
| Two Seater | 72" | 44" | 28" | 20" |
| Three Seater | 72" | 65" | 28" | 20" |
Filled Pillow Size
Filled Pillow Size
Pair
19"x29"
Comforter 
| Bed Size | Comforter set Size |
| --- | --- |
| Queen:          | 70"x100" |
| King:          | 90"x100" |
Bed in a bag
Bed Size
Bedsheet Size
King          
1 X Filled Duvet Cover 90X100"
1 X Fitted Sheet 72X78"
4 X Pillowcase 19X29+6"
2 X Cushion Covers 18X18"
---
In stock, ready to ship

Inventory on the way
Package Includes:
20" x 30" Silk Pillow Cover
Description:
Our Premium Silk Pillow Covers will transport you to a new realm of refined comfort. These pillowcases are a stylish representation of refinement and a healthful addition to your bed. Because they are hypoallergenic, they may be used by people with any skin, leaving you feeling revitalized and refreshed every morning.

Highlights:

Luxurious Comfort: These pillowcases are made from the finest silk and will transform even the roughest night's rest into a peaceful slumber.
Hypoallergenic Properties: The silk pillowcases are hypoallergenic, making them suitable for sensitive skin because they prevent the accumulation of dust mites, pollen, and other irritants.
Easy to Clean: These pillowcases are machine washable and dry able, requiring little attention. They keep their luster and suppleness after repeated washings.
Skin & Hair Benefits: The smooth surface decreases friction, which helps prevent hair breakage and lowers the appearance of sleep lines and wrinkles, all of which benefit the skin and hair.
Elegant Aesthetics: Aesthetically, the silk adds a sense of class and glamour to any bedroom because of its delicate sheen and rich texture.
Dimensions: Sized at a universal 20" x 30", these covers are a great addition to any home because they can be used with a wide range of pillows.

In-Depth Details:

The Premium Silk Pillow Covers are more than a decorative accent for your bed; they are an indulgent way to enhance your comfort and relaxation. They are a great addition to your bedtime routine because they are hypoallergenic and straightforward to clean.

Whether you want to spruce up your bedroom's aesthetic or sleep better, these silk pillowcases will open the door to indulgence and comfort. When you bury your head in these luxurious blankets at night, you enter a cocoon of relaxation; in the morning, you emerge feeling revitalized and ready to take on the world. Enjoy the luxurious feel of our Premium Silk Pillow Covers as you drift off to sleep.

Free Shipping to all areas