Why Customers Choose Austin Linen Mattress Protectors?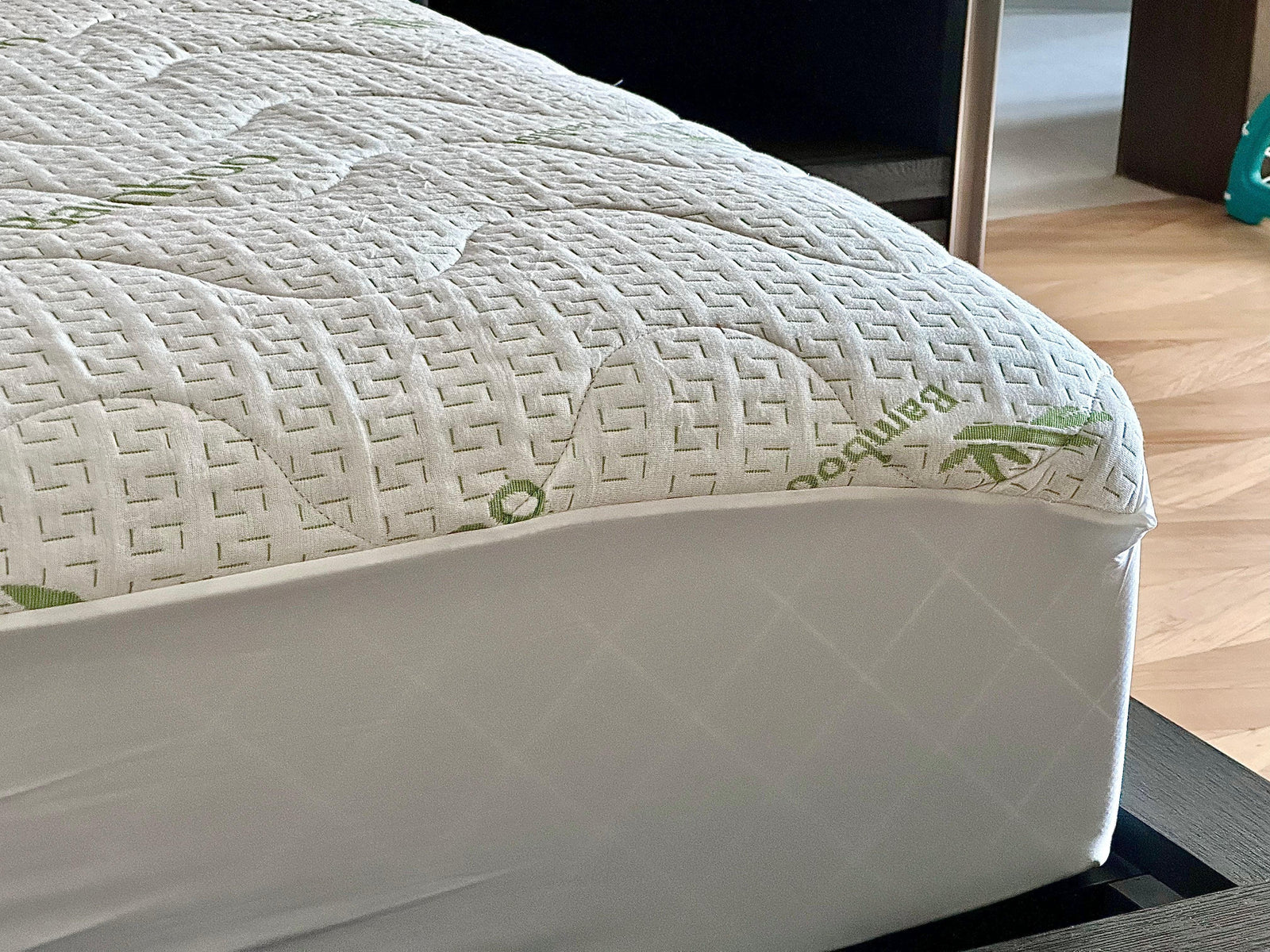 When people buy anything new, their first thought is sleeping peacefully. But this idea flies away when your mattress sets on your bed. Instead, a new vision of protecting your new mattress from harm takes priority. This is a general trend because when you buy something new, you want to protect it as best as possible to increase its lifespan. 
A new mattress means an investment to make your night sleep peaceful and comforting. People regret not protecting their mattresses after it is damaged. But you can prevent damage to your mattress by buying Austin Linen mattress protectors. 
Austin Linen is a famous brand that sells fabrics related to furniture and good night's rest. It is renowned for its variety of high-quality products that protect your furniture, elevate the aesthetics of your room, and provide you with comfort like none other. 
If you are new to Austin Linen, you might wonder why customers prefer to buy our products rather than local bedding. We provide our customers with high-quality protectors made from premium-quality materials. Moreover, our mattress protectors come in different shapes, sizes, colors, and designs. 
Our products are durable and spill-resistant, and their hypoallergenic protection properties ensure the best experience. Whether it is a seasonal change or sensitive skin, you need not be worried about our mattress protectors. 
Containing natural and premium-quality materials, the protectors keep your body temperature cool and feel like silk when touching the skin. You can even buy a waterproof protector for your children to keep your mattress safe from getting wet during the night. 
As a famous brand, Austin Linen mainly emphasizes quality and durability. The mattress protectors protect your mattresses and are durable enough to last long. By buying Austin Linen protectors, you can be sure your investment protects your mattress, increases its lifespan, and helps you sleep comfortably. 
After all, customer satisfaction is what drives our brand. We keep our customers worldwide happy and ensure they get the best products even if they are buying our products from abroad. 
Comprehensive Protection
Protecting a mattress is crucial, no matter how new your mattress is. Carelessness is the nature of people, and sooner or later, they spill something on the mattress. If you want to keep your mattress in the best condition and ensure its lifespan, then a protector is your best choice. A mattress protector keeps your mattress clean and prevents any spill or tearing. 
At Austin Linen, we create our protectors to be durable and comfortable to meet the demands and satisfaction of our customers. The design and benefits of our protectors vary depending on which product you buy. Some provide waterproofing, while others contain materials that keep allergens away.
Moreover, if you want a mattress protector with an eco-friendly option, then we have that as well. Made from bamboo, the mattress protector is soft and comfortable; it regulates your body's temperature and prevents any wicking, helping you get a good night's rest. 
Bamboo is a natural and eco-friendly material that grows rapidly. Their benefits are vast; hence, using it to create mattress protectors is an incredible option. 
Variety Collection
Mattress protectors of Austin Linen come in different shapes, sizes, and designs to meet the preferences of all customers. People not only want to keep their mattresses safe, but they also want something that meets the aesthetics of their rooms. At Austin Linen, we create mattress protectors while keeping this in mind. 
There are a variety of colors, sizes, and designs that customers can choose from to complement their rooms. When using our protectors, your mattress is safe from harm and becomes the focal point of your room that attracts visitors' attention. 
So, if you are looking for a mattress protector, look for the Austin Linen online platform and see its various designs to check which one suits the aesthetics of your room. Whatever your needs, all protectors ensure that your mattress is safe and you have a good and comfortable sleep. 
Convenience Features
When creating mattress protectors, Austin Linen's manufacturers keep convenience in mind. Changing and reinstalling a protector to fit a protector is easy when using Austin Linen's product. 
People use the mattress daily to get a good night's sleep; a protector protects your bed and helps you sleep comfortably. When used for a long time, a mattress protector gets dirty while keeping the mattress clean. At this point, your first convenience comes into play. 
Zip Closures
Removing Austin Linen's mattress protector is easy. By keeping customers convenience in mind, we create protectors with zip closures. Our protector's zip closure option makes it a famous commodity that customers find easy to use. It is easy to install and remove for cleaning. 
The durability and comfort of the protector make your night's sleep more comfortable. The convenience of removal aside, Austin Linen's zipper closures ensure your protector is a secure fit to the mattress. Its snug fit ensures that no matter how much you toss or turn the mattress or even toss and turn during sleep, the protector's position does not change in any way. 
The protector creates a snug fit and reliable barrier against spills, stains, allergens, and more. Its hassle-free removal ensures that it becomes easy to clean whenever necessary.
Easy Wash
Cleaning can become a hassle when mattress protectors become dirty. This problem does not occur when you use an Austin Linen protector. Our protectors are machine washable, and their durability ensures they are cleaned without any tear. You can keep the protector fresh and enjoy the benefits of comfort at night every day. 
Austin Linen's mattress protectors are made from premium quality materials and are simple to install and remove. So when the protector becomes dirty, all our customers must remove it from the mattress and wash it in a washing machine. 
Toss it in the washing machine according to the care instructions provided, and it will come out clean and ready to use again. This easy cleaning option is one of the many reasons Austin Linen's protectors are convenient for customers. 
If you want to clean your mattress protector for the first time and know nothing about it, use the manufacturer's instruction manual. Following the instructions in the manual, you can ensure that your protector is cleaned without any issues and always remains in top condition. 
Proper maintenance ensures that your protector remains usable for a long time while your mattress remains safe, giving you the best sleep daily.
Global Accessibility
Austin Linen is famous worldwide for its quality products, convenience, and durability. As a brand, it sells its products worldwide and ensures that they reach customers safely. Austin Linen offers shipping delivery to many countries. It ensures that customers in different countries enjoy the comfort and benefits of its protectors at any time. 
Furthermore, Austin Linen is known for its exceptional customer service, which gives the customer the best shopping experience. Austin Linen's online platform contains all the information about the products and the benefits a customer can read to satisfy their curiosity. 
No matter what they want to buy, they can find protectors that suit their preferences and elevate their room's aesthetics. The brand's commitment to customer satisfaction proves that Austin Linen manufactures high-quality protectors. 
These protectors come in many shapes, sizes, and designs to ensure that customers worldwide can find something that suits their preferences. Its premium-quality products ensure that your sleep is full of comfort to make your next day full of concentration.
Product Highlights
The deluxe zippered mattress encasement protect your entire mattress from harm. It is waterproof and creates a natural environment that keeps bed bugs away. If you have sensitive skin or allergies, this protector is for you. Made from high-quality materials, it ensures your sleep is healthy and comfortable.
With its multi-needle quilted design, the quilted waterproof mattress protector ensures you sleep without discomfort. It has hypoallergenic properties and hygienic benefits, ensuring your body is safe from microscopic harm, even during sleep.
Bamboo is a natural, eco-friendly, and rapid-growing flower plant. This is the main material used in manufacturing bamboo jacquard waterproof mattress protectors. The natural bamboo fiber creates a cooling effect and wicks away moisture in its surroundings, making your sleep full of comfort.
Austin Linen's Terry top waterproof mattress protector is soft, durable, and keeps dust mites away for great sleep. This protector is hypoallergenic since it's made from terry fabric, ensuring that even people with sensitive skin or allergies can sleep easily.
The Pinsonic Quilted Waterproof Mattress Protector gives additional thick, exceptional quality mattress protection in a waterproof shell. The protector is hypoallergenic, making it clean and convenient to use.
The premium quilted bamboo mattress pad is a high-quality protector whose fabric is noiseless. This protector contains bamboo fibers that regulate your body temperature, keeping it coin every season. Moreover, you can wash this protector in a washing machine, so if there is any dust on it, you can wash it and use it again quickly.
Austin Linen's cotton mattress protector is a famous commodity among its customers because of its versatile features. It is lightweight and easy to install and remove. But the main reason for its popularity is that this protector is waterproof, breathable, durable, hypoallergenic, and guarantees a comfortable sleep experience.
The green waterproof mattress protector ensures a cooling effect that wicks away moisture through the natural bamboo fiber, making you sleep without discomfort. Its anti-bacterial properties keep away any microscopic bacteria that are harmful to the body. It is soft and feels lovely to touch, making it feel like you are lying on a cloud.
The rudimentary bamboo mattress protector flaunts total security with natural bamboo fibers that control temperature and give hypoallergenic benefits. This bedding protector likewise includes a noiseless finish, guaranteeing an undisturbed sleep.
Conclusion
Austin Linen is a brand that has been making noise in the bedding industry for a long time. The customers prefer the products of this brand because of the quality and the benefits of its products. The brand itself is conscious of its customer's demands and regularly takes reviews to understand how it can keep its customers happy. 
They use premium-quality materials to manufacture mattress protectors, which come in different shapes, sizes, and designs to match the customers' preferences and room aesthetics. Once you use the products of Austin Linen, the appeal of your room elevates, and your bed becomes the focal point that everyone focuses on. 
So, if you are also looking for a mattress protector that does not affect your sleep, the Austin Linen brand protector is for you. Put aside your worries, find the best protector, and enjoy a happy and comfortable sleep experience.
FAQ's
What sets Austin Linen Mattress Protectors apart from other brands?
Austin Linen is a famous brand for creating superior bedding products. They pay significant attention to their protectors' details; each product is made from premium materials. The protectors are durable and easy to clean, perfect for mattress protection.
How do Austin Linen Mattress Protectors protect my mattress?
Austin Linen protectors use zip closure to warp around the mattress and ensure that your mattress is safe from any spills, stains, allergens, and even bed bugs. The protector creates a barrier that stops liquids and allergens from harming your mattress and you. This protection extends the lifespan of your mattress.
Are Austin Linen Mattress Protectors easy to clean and maintain?
Yes, customers love Austin Linen's protectors because they are easy to clean. You can easily remove dirt or spill through a machine wash and use the protector again. This convenience ensures that your mattress is safe, clean, and fresh.
Do Austin Linen Mattress Protectors affect the comfort of my mattress?
No, the mattress protectors of Austin Linen are made to be unobtrusive. The brand ensures its protectors protect your mattress while providing a comfortable sleep.
Are Austin Linen Mattress Protectors suitable for all mattress sizes?
Yes, Austin Linen protectors are available in various sizes to meet any requirements of its customers. Customers can freely choose the protector that fits their mattress perfectly.
---